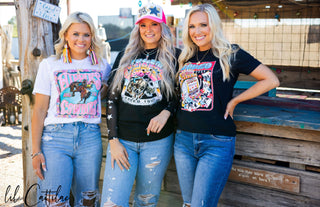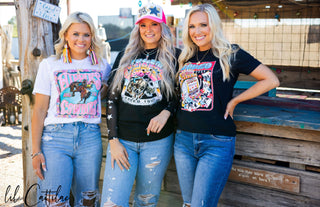 Custom Screen Printing & Embroidery
Celebrating 30+ Years of Service
Welcome to Lil Cattilac!
Lil Cattilac offers Custom Screen Printing & Embroidery in Abilene, TX
Celebrating 30+ Years of Service
The name "Cattilac Style" was created in 1984 to identify the retail western "Cattle" Boutique part of the business.  When a new building was purchased in 1996, the cow spot theme was adopted as the trademark "Cattilac Style" because it seemed to be so memorable for customers, it became the predominant name used for the business. Cindy Hendley still travels to events with "Cattilac Style" and has a store located downtown Ruidoso, New Mexico.   
 
Shay Hendley Sipe took over the Abilene store location in 2009 and that created the name change to Lil Cattilac. We still specialize in complete embroidery, screen printing, & vinyl lettering services. Lil Cattilac creates custom apparel, working with businesses, individuals, local & out of state groups, school events and fund raising projects. Lil Cattilac has over 30 years of experience providing custom apparel. Complete in-house production includes graphic design, screen printing, embroidery & vinyl lettering.  We are small enough to meet the needs of the individual, but large enough to create & produce a complete merchandise selection for major national events.
Stop in & see us Monday - Friday 9am - 5:30pm.  Follow us on Facebook & Instagram to keep in touch.